Recently, something unpleasant happened with somebody very important to me and it made me feel really helpless and lost because it seemed like it  was beyond my ability to repair the damage done in him, in me and in us.
I guess it doesn't help that I am not the one who's good at cheering others up like him. I'm usually blue. Like Sadness in Inside Out.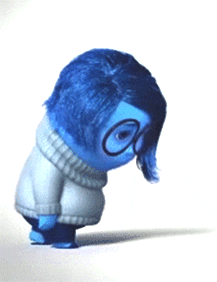 Yea, this is me.
Do you think the movie could have went on if Joy was not joyful? Yea, I doubt so too.
And that was how I felt, because he was my joy.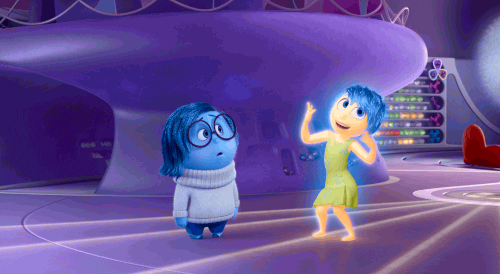 Anyway.
Things are alright now and I want to believe that something good came out of it. Deeper understanding, deeper trust, deeper love. Because we both cared, we both tried very hard and we still love. And perhaps more importantly, at least to me, I feel that we have come to realise through this episode that a r/s is indeed a partnership that requires both party to put in effort in order for it work. Just one party trying is just not enough.
In addition, I know that I can be Joy sometimes and he can be Sadness sometimes. We can take turns and be strong for each other when the other's battery run low. *flex muscle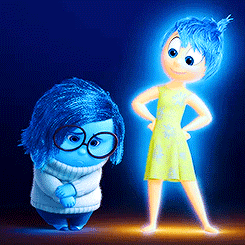 So anyway, I came across the song this morning while I was on spotify and well, it got stuck.
永不失聯的愛
詞: 饒雪漫 曲:周興哲

親愛的你躲在哪裡發呆
有什麼心事還無法釋懷
我們總把人生想得太壞
像旁人不允許我們的怪

每一片與眾不同的雲彩
都需要找到天空去存在 唔
我們都習慣了原地徘徊
卻無法習慣被依賴

你給我 這一輩子都不想失聯的愛
相信愛的征途就是星辰大海
美好劇情 不會更改
是命運最好的安排 哦

你是我 這一輩子都不想失聯的愛
何苦殘忍逼我把手輕輕放開
請快回來 想聽你說
說你還在

走過陪你看流星的天台
熬過失去你漫長的等待
好擔心沒人懂你的無奈
離開我誰還把你當小孩

我猜你一定也會想念我
也怕我失落在茫茫人海 唔
沒關係只要你肯回頭望
會發現我一直都在

你給我 這一輩子都不想失聯的愛
你的每條訊息都是心跳節拍
每秒都想 擁你入懷
全世界你最可愛 哦

你是我 這一輩子都不想失聯的愛
就算你的呼吸遠在千山之外
請你相信 我給的愛
值得你愛
*Sniffles
And that's how we know I love you.