You might have noticed that sometimes, my posts are quite dark and gloomy. It makes me sound like some crazy emotional woman, stuck in the rut, probably crying at night before I sleep or not eating my meals or something like that.
Actually, when I am writing it, I look like this:
Because it is a joy to write and usually I write when I have some form of basis or idea to write about. Okay, maybe I look more like this…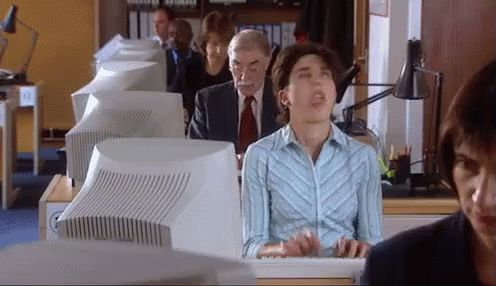 lol.
Ok I admit they are all not true. I have resting bitch face and yes, I probably look pissed when I'm typing away on the keyboard.
Anyway.
Usually, what I write about are usually based on whatever emotion I am feeling at a particular moment that's different from the norm, for example, when I miss someone or I am upset about something. I like to explore those emotions and write about them. I think its a 'writer thing'. I mean, not like a pro writer, but just people who like to write, in general. It is exciting to dig into our emotions and bear them out, raw.
So, yeah, inevitably, the emotion that I feel, e.g. anger of 2 on a scale of 10, probably become magnified to anger 8 over a scale of 10 when you read what I write because it would be an entire writing put together through the repeated process of me expounding on that emotion. And I enjoy that process because as I explore, I gain clarity, and by the time I vent it into words… I feel maybe 0.5 over 10 in the end. It's cathartic.
Same for feelings of sadness. Happiness tend to stay and become magnified though, I am not sure why, hahaa.
So don't worry for me, in case you think I am some dark depressed soul somewhere in SG. I'm actually feeling really cheery most of the time.
But in case I'm causing alarm among some of you, I will tone it down a bit, hahaa.
Time to head to the embassy.
bye-bicycle!